"Their music has this tender edge that got me hook, line, and sinker." 
Heather Adamson, Songs In The Valley (Festival Review) 
Serenety Harvest Music Festival (BC)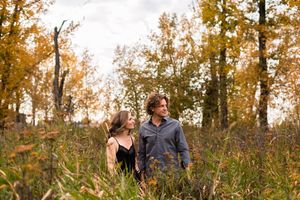 House Concerts
Alright! So you're curious about House Concerts eh? Well you've come to the right place. These are definitely our favourite way to share our music and meet people, and they always end up being some of the most memorable and positive experiences we've enjoyed.
House Concerts are very easy to host, and we always aim to make them as enjoyable for the hosts as possible. After all, without them these events wouldn't happen!
A typical House Concert involves 20+ people (friends, family, co-workers) getting together in the comforts of someone's home (living room, dining room, rec room) or on their property (patio, driveway, backyard), for the purpose of enjoying an intimate performance by a professional touring artist(s) and connecting with others.
Indoor, Outdoor, Anywhere
Flint & Feather have had the pleasure of performing House Concerts in nearly every setting imaginable. Please contact them using the form below to plan your perfect event.