"Their presence created a warm sense of community." 
Jess Preeper, Artist Management Consultant 
Have Heart Creative (AB)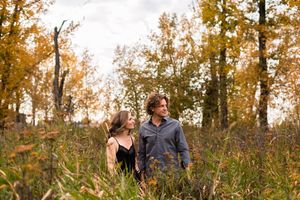 Community Concerts
Artist Responsibilities
Flint & Feather come direct to you or your desired community location (cul-de-sac, street-side, backyard, park, acreage) with our portable performance set-up which includes a full backline (requiring access to power) featuring a  professional audio system, two monitors, two microphones, our full assortment of instruments, and an artist merchandise display. This set-up works well for large outdoors audiences of up to 200 persons.
Host Responsibilities 
Pull up a chair or blanket, grab a beverage or snack, and sit back, relax, and enjoy original live music to soothe the socially distanced soul. Invite your neighbours to take in the performance safely from their yards - or from a space like a driveway or parking pad, where social distancing can be safely observed.
Anywhere, Anytime
Flint & Feather have had the pleasure of performing a wide range of Community Concerts throughout Western Canada. Please contact them using the form below to plan your perfect event.